The Metal Processing Centre is a joint venture between OCAS (research centre for the application of steel) and CRM (Centre for research in metallurgy) and is equipped to develop, produce, process and characterise tailor-made alloys. Together with its partner Sirris  – the new melting furnaces will add to the support to the foundry and manufacturing industries. The Metal Processing Centres unique range of equipment enables the simulation of industrial metallurgical processing of virtually every alloy on a laboratory scale.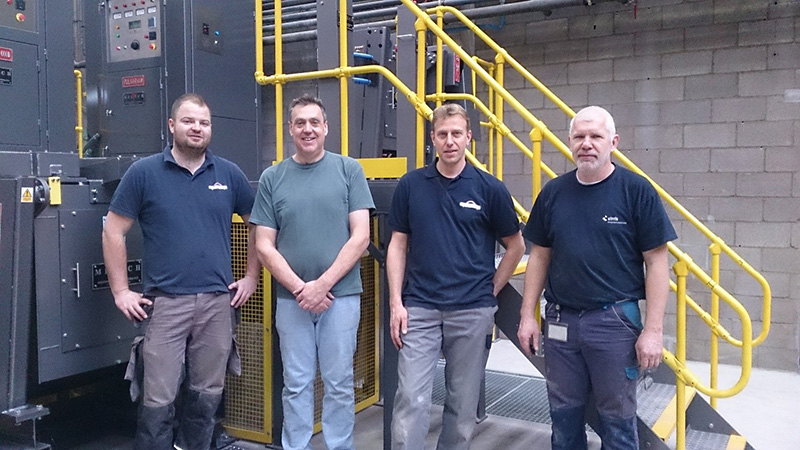 In mid-2014, changes to the facilities requirements made it necessary to replace an old motor driven induction melting furnace system with a state of the art replacement at their development facility in Zwijnaarde-Gent, Belgium. The proposed equipment was to include a 300 kg Steel capacity tilting furnace driven by a 200 kW 3,000 Hz inverter plus an 80 kg Steel capacity tilting furnace driven by a 100 Kw 3,000 Hz inverter which was to be installed onto an existing concrete base to reduce the need for modifications.
The contract was awarded to Meltech Ltd, England in July 2014 was to include two standard Pulsar inverters with one Flush platform and one standard design furnace body, each system was to be incorporated into a modular platform complete with metal spillage containers, integral bus bars, hydraulics and lip fume extraction systems, all incorporated into a raised working area with stairs and handrails.
The system design was bespoke and developed using the Solidworks software system which enabled the customer to visualise and see each component and finished system in 3D before any manufacturing had begun, the big advantage of this software became apparent when design modifications were necessary in order to allow test instrumentation and casting equipment to be added later on.
The modular platform and equipment was pre-assembled in Meltech's Haverhill facility in the UK, before being dismantled and final re-assembly at the customer's site. The whole installation process was completed in just three days with everything lining up right down to the last nut and bolt.
There were many considerations when the design concept was finalised, in particular, each furnace would have to be perfectly positioned to allow easy access for our monitoring and casting equipment to be added. The machine would also have to be safe in operation, almost maintenance free and meet MPC's stringent noise and emission standards. Connections to each furnace body such as bus bars water hoses, power cables and extraction ductwork also had to be carefully thought out to allow the free movement the furnace without damage or excessive wear to the service assemblies which were positioned below the platform. Metal run through could also be catastrophic to these sub-platform assemblies so a spill tray arrangement was designed and built underneath each furnace in order to contain potential molten metal spillage.
As Mr Johan Verlee, Project manager for MPC explains "We considered that our particular requirements were a big ask for any manufacturer but it was our consideration that a small flexible specialist could provide a practical solution, Meltech listened to what we wanted and provided a high quality product within our budget, I would like finish by congratulating Meltech for the nice work they have done, everything fitted just fine in place, every bolt and hole was in the correct position, unbelievable"
This project is one of several bespoke induction furnace systems to which Meltech Ltd has now become a leader and ad's further to the specialisation in both standard and non-standard Induction melting and heating equipment sales.